KARL - GIS
K.A.R.L.®-Geo-Information-System (GIS)
Are you looking for a way to visualize your locations and their risks, which we have identified for you in a portfolio analysis?
With our K.A.R.L.®-GIS we offer you a platform that you can access online anytime and from anywhere.
In our free demo GIS we have provided risk data on selected European sights for you.

You can reach our demo GIS by clicking on the map.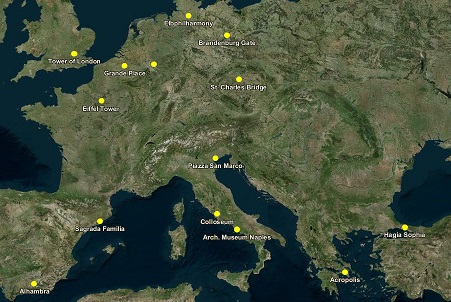 In the opening GIS system there are a lot of risk information (*) behind every location point. These can be displayed on the left side of the screen by clicking on the desired location point. In addition to the key findings of the K.A.R.L.
®
-Analysis for this site, you will find a link to the full K.A.R.L.
®
-PRO Report.
Please contact us. We will advise you professionally and submit an individualised offer for your specific situation.
Phone: +49 (221) 397 61-200
E-mail: team.karl@koeln-assekuranz.com
(*) The analyses were created based on a standard vulnerability, without going into specific peculiarities of the individual sights. The risk values are given as a percentage of the total value at the respective site, which is statistically expected per year to be damaged by the individual natural hazards.